Fusion Canberra Newsletter 1 for 2016
New Leadership Team
We are sad to see our team leaders Brenton and Claire Reimann leaving us this year, but on the flip side, we are pleased to introduce the three lovely ladies who are stepping into Fusion Canberra's new leadership team. They are; Diana Davis – Manager of Fusion Op Shop Kippax, Gillian Uhle – Manager of Fusion Op Shop Kambah and Fusion Admin Officer and Naomi Tafea – Fusion Canberra Youth Worker and Chaplain. We are very excited about the plans that God has for our Centre this year! Although changes in leadership may seem nerve-racking at times, we trust that God is before us, leading the way and that our trust and hope in Him will guide us on the path He has us on. We would love to see you continue your support for our Centre as we journey throughout this year, as well as share with you our upcoming stories and testimonies that the Lord will guide us into.
Fusion Canberra Youth
It has been an exciting and great start to the year for Fusion Youth Canberra (FYC). Our Chaplain Naomi has managed to get the ball rolling in our schools work this year, particularly in the Christian lunch time group that has been renamed to F.O.C.U.S. which stands for Followers Of Christ, U.c high School. This year FOCUS believes that God has called them to reach out to the non-Christians in their school, just like Paul was called out to the Gentiles in his ministry. FOUCS's purpose is to create a space and an atmosphere during their lunchtime meetings where non-Christian students are able to come in and feel loved and appreciated, just like Jesus did for us. With the connections and relationships that Naomi is developing and establishing with the local church youth leaders in the Belconnen region, our hope is that these non-Christian students will express further interest in the Christian faith and eventually transitions to a church youth group. In the last couple of weeks, FOCUS has had over 25 students (half of them non-Christian) come along to our meetings, as we played games, ate food and listened to awesome music. That is an incredible jump from last year's group, as we had on average 8 regular students come along each week. Our prayer is that these non-Christian students would continue to come along to these meetings and encounter the love of Jesus so strongly that they would seek to know Him more.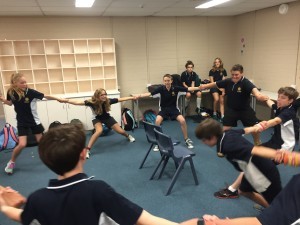 All fun and games at FOCUS
Fusion Op Shop Kippax
Fusion Hand to Hand has recently changed its name to Fusion Op Shop Kippax (FOSKI) as it comes in line with all Fusion Australia's op shops around the country. The FOSKI team welcomed back all volunteers after a well-deserved Christmas break. We have also welcomed a new volunteer to our 'volunteer family' and have an expression of interest from another. So we are off to a great start!!
We are also welcoming our newest junior Volunteer. She is 10 years old and in Year 5. She has shown great enthusiasm upon applying, and during her interview she mentioned that she is very keen to learn lots of new things.
Our Work for the Dole offer is being taken up again with an interview this week. Also, our three young After School Care volunteers from St John's Primary School in Florey, will be returning on a weekly basis during school terms as of February 23. They are very enthusiastic and are looking forward to being back with us. They really enjoyed their time with us last year and are very keen to return.
A big thank you to all the staff at FOSKI for their support in making all this possible.
Here is the exciting *new* sign for Fusion Kippax Op Shop- go check out! 
Fusion Op Shop Kamba
'We missed you! We are so glad you are open again!' was the resounding greeting from many of the customers of Fusion Op Shop Kambah when we reopened on January 18 this year. What an encouraging start to the new year J
Not only did we have many of our customers back, but all of our team from last year returned too. We are truly blessed by our dedicated and inspiring team of volunteers J
Being a social enterprise means our goal is 'To provide a place where people are seen and valued.' As a result, we all share the stories of people's lives every day. One such story is of a mother and daughter who have begun to regrow a relationship that has been difficult over the past few years. Their story has so many levels of wonderful.
The young woman is facing significant health challenges and the way her mum has been able to support her recently is to make clothing to fit her so that she feels 'seen and valued'. The daughter's size is equivalent to a men's 7XL. There just isn't anything big enough for her to wear, let alone feel remotely beautiful in.
Through the designing and creation of some lovely dresses and skirts from second hand clothes and queen bed sheets from our shop, the mum has not only been able to bless her daughter physically and emotionally, but has herself been blessed through the process. When she has come to the shop for fabrics that she can use to create lovely things for her daughter to wear, she has had lovely conversations with the team and discovered a creative way to help her daughter. Her daughter has loved the clothes her mum has made for her and their relationship is growing again.
The photos included in this article show the mum with 2 nighties she made for her daughter's recent stay in hospital. She was so excited to have found the patterned fabric (a second hand dress from the shop) that she went home and put the nighties together in a very basic fashion and rushed back to the shop before we closed to show us what she had made. We all celebrated with her and she left in high spirit
This is Fusion's tagline – 'Together There's Life' and norms of –  'Build People Up, Help People Grow, Because People Matter' lived out in real life.
Every day we work with God to show our part of His world, His love.