Our 5th Annual Friends of Fusion Fundraising Dinner raised $23,000 towards helping Fusion continue our valuable work into 2015.
"This years dinner was fantastic. We had 185 guests attend on the night and from all accounts it was enjoyed by all" said Fusion Canberra CEO Brenton Reimann.
We were inspired by our speakers Wyatt Roy and John Latten and entertained by students from UC High Kaleen led by Mark Holberton.
Thanks to everyone who attended and made it such an enjoyable event.
"It was great to catch up with old friends and meet new people" said one guest.
"It was a wonderful atmosphere" said another guest.
Thanks especially to those who donated or got involved in the Silent Auction. It is because of your generosity that we are able to continue on with our work next year and help youth and the community.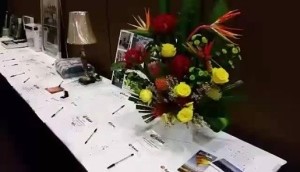 Many many thanks also to all those who donated but couldn't make it to our fund-raising dinner. We really appreciate your support of our work and hope that you can make it in future years.
We hope to see everyone again next year !
We've raised $23,000 of our $30,000 target so if you would like to give a donation to help us reach our target of $30,000 by November 30, please click on the button below:
[maxbutton id="5″]